Trade License Vs. Trademark
23-05-10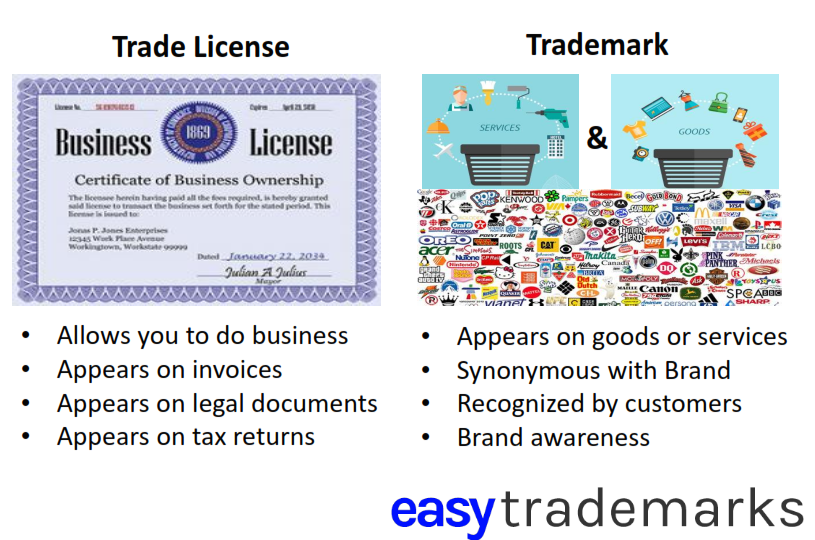 If you're building a brand and investing in advertising, hoping that customers can find you, you'll want to protect your business name properly so no one else can use it.
Most of the time new business owners are confused about the difference between registering their business name or getting a business license vs registering a trademark.
Difference between registering your company (trade license) and registering your trademark
Registering a company entails setting up a legal entity that is licensed to do business. The company can be a sole proprietorship, partnership, limited liability company, or corporation. Such registration is needed for license and tax purposes. More information on Company types?
Registering a business is a legal obligation, so a startup or an entrepreneur can have a trade license for the enterprise but not necessarily own a trademark.
Why seek trademark protection?
Registering a trademark, on the other hand, entails protecting the name, words, logo, colors, or symbols which are used to identify the source of the goods and services.
Therefore, if you plan on investing in marketing and advertising for customers to recognize your name nationally or internationally then it is best if you protect your name as a trademark – through a trademark registration.
A trademark is a distinctive word, phrase, symbol, or design that identifies the source of a product or service and it distinguishes from others.
Registering a trademark is a choice you make to empower your brand.
The owner of a trademark has exclusive rights to the trademark and can prevent anyone from using it in the country it is registered.
In conclusion, a trade license is necessary for doing business, but a trademark is an investment made to capitalize on branding efforts and ensure brand awareness is optimum.