Zoho partners with Falak Investment to empower startups in Saudi Arabia
23-05-10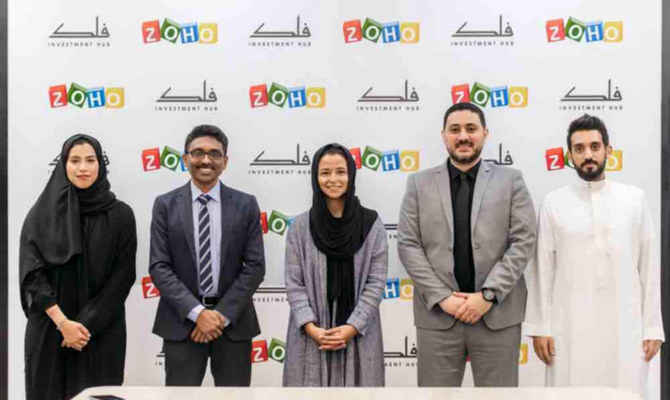 According to Adwa Al-Dakheel, founder and CEO of Falak Investment Hub, Saudi Arabia is of the forefront of innovation and startup ecosystems in the MENA. With a booming ecosystem, a young and ambitious population, and a rising talent landscape, such ecosystems are worthy of local and global partnerships to elevate and inspire greatness from every existing founder and future founder. As long-term users of Zoho, we're proud to formalize and scale this partnership for the betterment of Saudi Arabia's local ecosystem.
Zoho joins forces with Falak Investment to empower startups in Saudi Arabia:
Zoho Corp., a global technology company, signed an MoU with the Saudi-based Falak Investment Hub to work together to digitally empower youth and startups in Saudi Arabia and support them in their digital transformation journey.
As per the MoU, Zoho will provide startups associated with the Falak Investment Hub network wallet credit worth $2,500, an initiative by the "Zoho for Startups" program. The wallet credit can be used for accessing any of its 50+ products. In addition, members of the Falak Investment Hub will get access to learning resources and training workshops by Zoho's team to help them digitize their business.
The MoU was signed by Adwa Al-Dakheel, founder and CEO at Falak Investment Hub, and Hyther Nizam, of the president Middle East and Africa at Zoho Corp.
Falak and Zoho are also jointly conducting a series of boot camp sessions, which will offer hands-on training on low-code, using the platform Zoho Creator, for university students in the Kingdom who aspire to test their ideas and hone their entrepreneurship skills. This comes as part of Falak's Future Founders Program.
The first bootcamp took place from June 26-30 at the Falak Investment Hub, which was attended by students from Prince Sultan University.
You can read the full article on https://www.arabnews.com/node/2120131/corporate-news
easy trademarks
Empowering Innovation