Intellectual property at technology companies - the case of Oracle and Google
23-05-10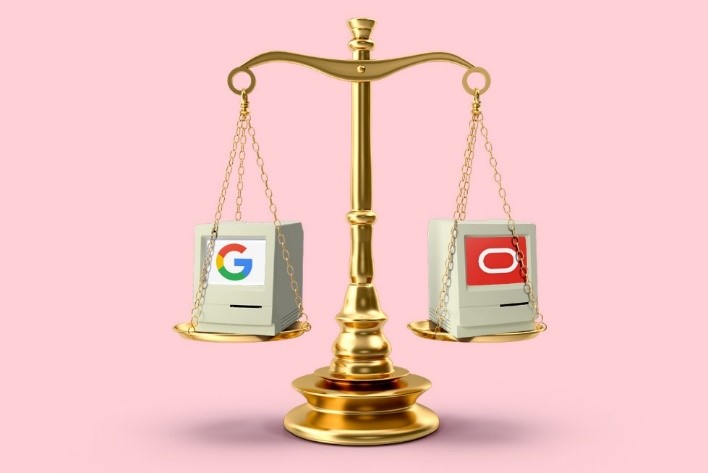 TECH Giants Oracle and Google battle over copyright for the last 11 years.

Background – Intellectual property at technology companies (Google and Oracle):

The case started in a federal court in San Francisco back in 2010 when Oracle filed a lawsuit against Google citing copyright violation. At the crux of the dispute, Oracle claimed that Google plagiarized 11,330 lines of computer code (from Java software) which resulted in the creation of Android, which currently reaps billions of dollars in revenue.
Oracle was initially requesting USD 8 Billion in damages, and this estimate increased to USD 30 billion at the federal level according to some sources.
Google responded by claiming that it has used elements of Java's software which are required to operate a computer program or platform but have not copied the program.
Key Legal elements relevant to intellectual property at software and technology companies (Google and Oracle):
For anyone who would like to learn more about the legal matters underpinning this case, we have outlined them below;
- Methods of operations – which was claimed by Oracle to be copied by Google, is not protected by Federal copyright law – this can be protected under patent law, however, this is not the case here.
- Fair use doctrine The fair use doctrine, part of the Copyright Act of 1976, permits limited use of copyrighted material without having to first acquire permission from the copyright holder. Fair use is one of the limitations to copyright intended to balance the interests of copyright holders with the public interest in the wider distribution and use of creative works by allowing as a defense to copyright infringement claims certain limited uses that might otherwise be considered infringement. In countries with a common law fair use is referred to as "fair dealing" which is also a general exception that applies to all different kinds of uses with all types of works and turns on a flexible proportionality test that examines the purpose of the use, the amount used, and the impact on the market of the original work.
The supreme court ruled that Google's use of Oracle's copyright is permissible under the fair use doctrine under the 1976 Copyright Act venue.
- As elements of Oracle's application programming interfaces were adapted by Google on a mobile platform therefore as claimed, Google was transformed into something new.
-Google used Oracle's declaring code, which it has likened to a QWERTY keyboard, but not its implementing code, which it says is more like a word processor.
- The fair use extends to the functional principles of computer code means companies can offer competing, interoperable products," said Matt Schruers, president of the Computer & Communications Industry Association
- Google's use of the code was protected under fair use.
- Only software elements needed to operate a computer program or platform were used in developing Android, extending the fair use doctrine to functional principles of computer code.
- "The Copyright Act does not give Google a pass just because it would be expensive to recreate our expression,".
Decision:

Google had two prior losses at the Federal Circuit courts, in 2014 and 2018, and a win which was cleared by a jury in 2016. When the case finally reached the supreme court,
the justices overturned the lower court's rulings in April 2021. The decision was issued with a 6 to 2 vote, citing – "Google's inclusion of Oracle's software code to build the Android operating system that runs most of the world's smartphones did not violate federal copyright law based on the fair use doctrine"
Impact of Decisions:

According to Justice Stephen Breyer, Associate Justice of the Supreme Court of the United States, allowing Oracle to enforce its copyright claim would harm the public by making it a "lock limiting the future creativity of new programs. Oracle alone would hold the key." This comment, along with the ruling of the supreme court, does not directly tackle whether or not the code was entitled to copyright protection in the first place.
People who followed this case came from 2 groups of thought;
As this decision impacts companies that offer competing yet interoperable software products, advocates of the decision state that a decision contrary to what was issued by the supreme court would make it harder to use programming elements to ensure computer interoperability.

Opponents of the decision, on the other hand, state that this decision will encourage companies to freely copy libraries of code whenever it is more convenient than writing their own, therefore undermining copyright laws.

If you are a startup with proprietary technology, make sure you have an Intellectual property strategy to protect your assets. Your Intellectual property assets range from trademarks to patents, copyrights, trade secrets, and domain names. Feel free to reach out to us at www.easy-trademarks.com and www.easy-patents.com to assist with your matters.
By Zeinab

easytrademarks
Empowering innovation
Sources:
https://www.reuters.com/article/us-usa-court-google-oracle-idUSKBN2BS1A9#:~:text=In%20a%206,MORE%20FROM%20REUTERS
https://en.wikipedia.org/wiki/Google_LLC_v._Oracle_America,_Inc.#:~:text=On%20August%2013%2C%202010%2C%20Oracle,Google%20therefore%20infringed%20Oracle's%20copyright.
https://www.supremecourt.gov/opinions/20pdf/18-956_d18f.pdf