Can a dance move be considered a trademark?
23-05-10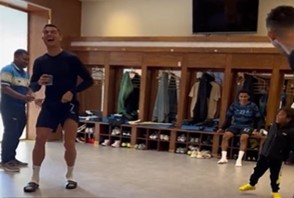 After a teammate's son performed his celebration, Cristiano Ronaldo burst into laughter.
In January, the 37-year-old Portuguese veteran joined Al-Nassr in Saudi Arabia.
The young child of teammate Talisca imitated Ronaldo's signature "Siuuu" pose.
Ronaldo was heartily amused by the kid's move.
Fame and trademarks
Being Famous has its perks, and this is also evident in trademark law. While a dance can not specifically be registered as a trademark, there may be an option to file a motion mark in some countries, which may protect such a move. In any case, how a motion mark or a dance move can be commercialized is another key question. Before you secure a trademark, the key question to ask is Why should I protect this trademark? How will I commercially use this trademark?
Contact us to talk to an expert
Start the trademark registration
Below is an excerpt from the article:
Social media footage has shown that a teammate's son imitated Cristiano Ronaldo's trademark move "siuuu", which caused Ronaldo to laugh out loud.
After his Manchester United contract was terminated, in the wake of a shockingly critical interview with Piers Morgan, the 37-year-old Portuguese Football player expert made the move to Al-Nassr in Saudi Arabia in January.
In addition, Ronaldo is captured having a hearty chuckle in an Instagram video after the young child of Anderson Talisca performed his signature pose in the dressing room.
The clip, posted on Twitter, has already received more than 13,000 likes and has the caption: 'Anderson Talisca's son showing his siuuuuu to @Cristiano,' followed by a yellow heart and sunglasses emoji.
You can watch the full video of: Ronald and his son laughing #shorts #youtubeshorts #shortvideo - YouTube
You can read the full article on: Cristiano Ronaldo laughs as Al-Nassr teammate Anderson Talisca's young son copies 'Siiuuu' celebration in light hearted dressing room moment (talksport.com)