Trademark licensing - Monopoly sets an example of how legacy brands can keep up with changing customer preferences.
23-07-18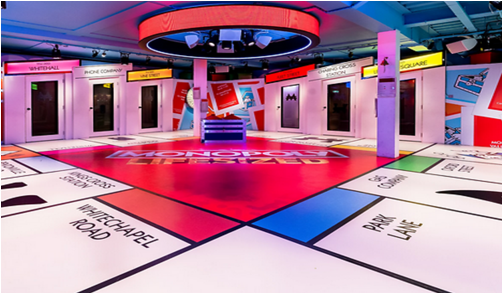 Brand Licensing Europe (BLE) is preparing to showcase the exciting world of location-based experiences (LBE) at its upcoming event in London. The much-anticipated keynote session will feature Matt Proulx, Vice President of LBE at Hasbro, and David Hutchinson, CEO of The Path Entertainment Group. Scheduled for October 4th, the session titled "Passing GO: Bringing the world's leading board game to life" will delve into the immersive "Monopoly: Lifesized" experience.
"Monopoly: Lifesized" is a captivating adaptation of the iconic board game, played in a 4D physical format on an enormous 15m x 15m board. Since its launch in August 2021, this larger-than-life experience has attracted over 150,000 visitors in London. Proulx and Hutchinson will share their journey of creating this groundbreaking LBE concept, highlighting the collaborative efforts and strategic planning that contributed to its remarkable success.
Ella Haynes, Event Director of Brand Licensing Europe, expressed her enthusiasm for the keynote session, emphasizing the event's focus on the thriving LBE industry in London. She encourages industry professionals to register early for the event to secure a seat in the theater, as this session promises to be a bustling and inspiring opportunity to discover LBE trends and gain invaluable insights from industry experts.
Proulx from Hasbro emphasized the company's dedication to providing immersive experiences that connect fans of all ages through the magic of storytelling and play. The partnership between Hasbro and The Path Entertainment Group has enabled fans to step into the worlds of their beloved brands and characters, as exemplified by the resounding success of "Monopoly: Lifesized."
The first LBE-themed keynote session at BLE will offer attendees valuable insights into the creative process behind the development of immersive LBE experiences. It is set to be a highlight of the event, offering a glimpse into the future of location-based entertainment and inspiring industry professionals to push boundaries and create unforgettable experiences for fans worldwide.
Refer to the complete article published by License Global:
https://www.licenseglobal.com/brand-licensing-europe/hasbro-the-path-entertainment-group-to-deliver-monopoly-lifesized-keynote-at-ble-2023